GLEN ART THEATRE HISTORY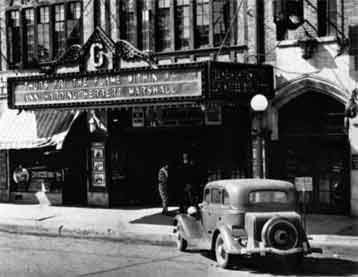 An early picture of the Glen Art Theatre with its original marquee

The Glen Art Theatre first opened its doors in the early 1920's and quickly became a staple of downtown Glen Ellyn. After passing through several hands the 1,000 seat theatre was acquired by its current owners in the early 1980's. The new owners seeing into the future of today's megaplexs had the theatre divided in half and then in half again into the four 200 seat auditoriums it currently has.

In its over 80 years of operation the Glen Art Theatre has had its share of moments in the sun. One of which occurred when the 1986 film Lucas starring Corey Haim, Charlie Sheen, & Kerri Green was filmed on location in Glen Ellyn. The theatre was featured in the film when the main characters went to the movies and some of the employees were even used as extras. The films midwest premier was even shown at the theatre with all of Glen Ellyn showing up in their finest for the occasion.

It seems like every year some lucky girl gets invited to the prom or some other school dance from the marquee of the Glen Art Theatre. One couple even had some wedding photos taken under the marquee.

And today the Glen Art Theatre continues its grand tradition by regularly drawing customers from all over Chicagoland to see some of the finest films from all over the world.
If you have information about the early years of the Glen Art Theatre please Contact us .
Home | Showtimes | Coming Soon | Directions | Parking | History | Contact